Sturdi Plus – 4m x 3m Rectangular Wood Parasol
Introducing the Sturdi Plus 4m x 3m Rectangular parasol. Featuring 8 ribs as well as stainless steel fixings & leather end caps. Available in 6 different colours.
A great addition to a garden, with an array of great features. The pole & ribs of this parasol are made from FSC Eucalyptus Wood (Teak colour). Eucalyptus wood is exceptionally resistant to decay as well as rotting. It naturally resists the influence of moisture as it contains high oil content. That means it can get damp without you worrying about whether or not damage will occur. You can be confident of a long-life product with minimal maintenance. The parasol is also fade-resistant to further increase the longevity of the product.
The Sturdi Plus 4m x 3m Rectangular parasol is available in 6 colours as shown below. The diameter of the pole is 48mm.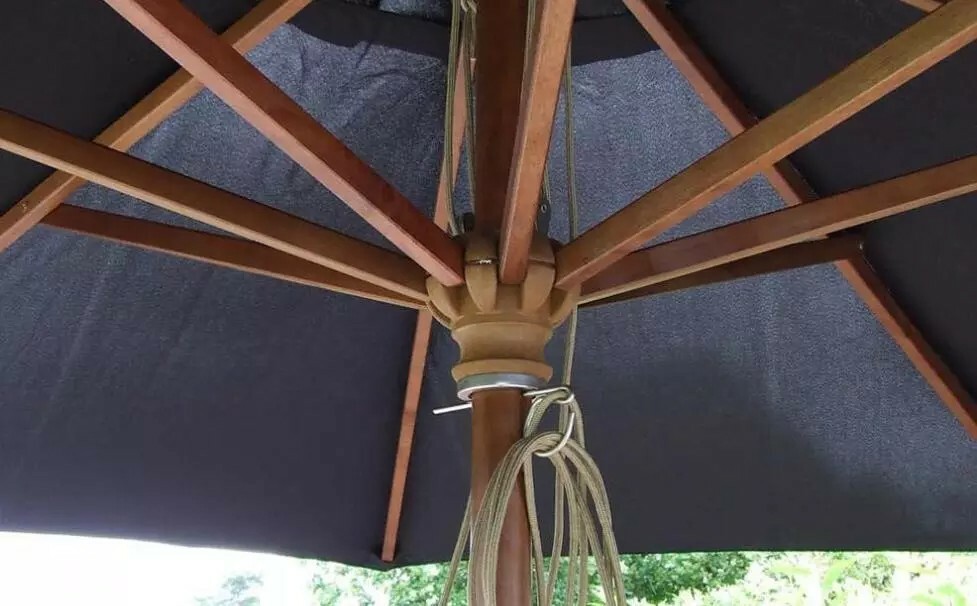 Strong and Reliable
With water resistance, fade resistance and also stain and rot resistance, you can be sure you're receiving a quality parasol. The parasol comes equipped with removable covers to allow machine washing at 40 degrees C. You can unscrew the decorative finials to machine wash the cover. Additionally, the Sturdi Plus rectangular parasol has an oversize stainless steel connector as well as stainless steel fixings for increased strength. You can raise the parasol with ease thanks to the double pulley mechanism.
Try the Sturdi Plus 4m x 3m Rectangular Parasol today! To see specific colour stock availability, see the drop-down box.
Please note: although shown with a parasol base in the image, a base is not included. This large wooden parasol ideally needs at least a 50 kg base, if it is completely freestanding. If it's going through a table then you are looking at a 25 kg base but would need to ensure that the whole in the table is 50mm. The Pole diameter is 48mm.
Note: Although you can use this giant rectangular umbrella in the centre of tables, be aware that the arms are so long that when they come down they will rest on the edge of the table. People who use them in tables tend to remove them and put them away each time they take them down.
Not the right parasol for you? See our full range of parasols here